Best Weed In Amsterdam
Amsterdam is one of the world's most famous destinations for recreational marijuana use. Marijuana lovers will travel across the globe to experience the infamous weed-friendly culture. One of the first destinations in the world to totally legalize the plant. Known for its infamous coffee shops where tourists can come in sit down and enjoy a coffee and a smoke. Naturally, the best weed in Amsterdam is some of the best weed in the world. Many world-renowned strains were born in the Netherlands. As well as many world-renowned strains are readily available in Amsterdam. In no particular order, we at Primo have put together a list of the best weed in Amsterdam.
Top 10 Strains
---
1. White Widow
White widow is named as such due to its dense white nugs caked in crystallized resin. A  world-renowned 60/40 Sativa dominant hybrid known for its energy inducing effects. The strain was created by the ever-impressive Green House Seeds out of Amsterdam in the 1990s.
With an average THC content of 20% – 25%. White Widow is a cross between Brazilian Indica and South Indian Sativa landraces. White Widow is a very valued strain for producing hash. The high is energetic and euphoric encouraging creativity. A legendary strain that has been a fan favorite in the industry since its arrival in the early '90s a rich history of quality makes this some of the best weed in Amsterdam.
2. White Choco
White Choco is a grade-A strain by Amsterdam Genetics a cross between White Russian and Chocolope. A perfect 50/50 Indica to Sativa blend, A wonderfully balanced strain.  A sweet and spicy chocolate taste. In medium doses, White Choco will create a nice cerebral buzz, with a heady activation.
If high doses are consumed on account of the CBD and CBG content you can expect a more appetite-stimulating, deactivating, and sleep-inducing effect. With an average THC content of 19% and a CBD content of 0.5%. It is a very digestible and enjoyable strain. This unique strain is known as some of the best weed in Amsterdam, on account of its perfect balance, aroma, taste, and high. An exotic strain to those of us in the U.S and Canada. One that is not easy to come by out here but worth the extra effort to obtain.
3. Pineapple Kush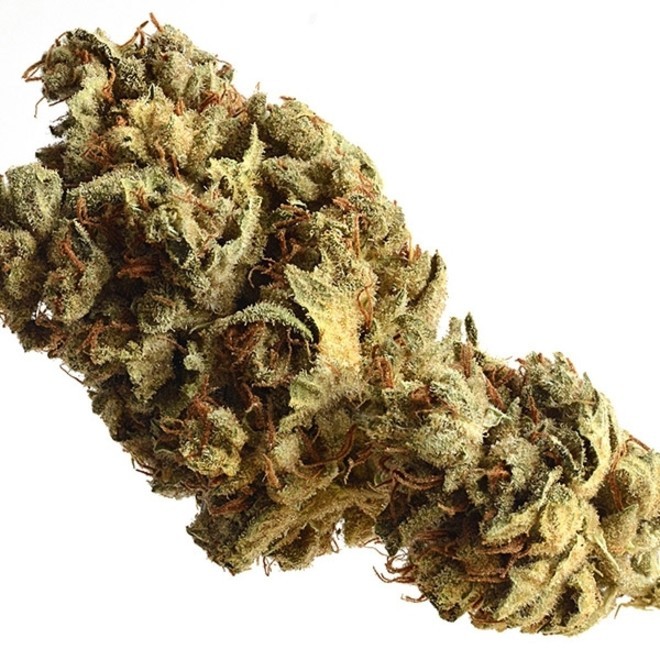 Pineapple Kush is another brainchild of Amsterdam Genetics created solely for its positive effects on the mind and body. 70/30 Indica dominant with a mild THC content averaging from 15%-18%. Medical benefits include high levels of stress relief, depression relief, pain relief, and headache relief.
The Pineapple Kush strain also envokes strong feelings of happiness, relaxation, euphoria, and creativity. Unique mouth-watering sweet pineapple flavors, with a heavy body, stoned effect. The extremely effective medical attributes associated with Pineapple Kush make this strain some of the best weed in Amsterdam.
4. Blue Magic
An Indica dominant true designer strain. A cross between Amsterdam Genetics Green Magic (White Choco X Green Manalishi) and the ever-popular Headband (OG Kush X Sour Diesel0. A 90/10 Indica dominant strain, with a fairly high THC content, 21%-23%, and 0.7 CBD content.
Known for packing a big body buzz, more focused on the physical than the cerebral. However, cerebral effects are still present. Being recognized as some of the best weed in Amsterdam. Evoking strong feelings of happiness, and relaxation. Used medically for depression relief, stress relief, and pain relief. A very special, and unique designer strain. Highly decorated in the Amsterdam Cannabis community.
5. Blue Sensi Star Blue Sensi Star of Amsterdam Genetics Homegrown whos parents is Blue Magic and Sensi Star. A 90/10 Indica dominant. A pungent and sweet flavor, that carries a very intense body high. Extremely beautiful and dense buds with very high levels of crystallization. Some of the strongest Indica on the market, boasting an extremely high THC percentage of up to 28%.
These two parent strains create an incredibly balanced strain, on the front end, you can notice increased energy and creativity. From the Blue Magic, from the Sensi Star, you can feel effects on the back end of great relaxation, euphoria, and happiness. From the heavy Indica effects of Sensi Star. All in all a powerhouse strain that packs a real punch.
6. Green Magic
An epic cross of our previously mentioned White Choco and Green Manalishi (Pacific G13 X G13/HP). A 60/40 Indica dominant strain, that packs incredible flavor. A chocolatey, sweet, and spicy taste.  An intense body high with a fairly high level of THC and comparably high level of CBD to most strains.
An Average THC content of 18%-21% and a CBD content average of 1.2%-1.4%.  A sweet and chocolaty slightly minty taste. This strain will accelerate the heartbeat of many consumers while creating a heavy sort of narcotic high. The high induces a high level of stress relief, euphoria, uplifting feelings, and depression relief.
7. Tangerine G13
Another one from our friends at Amsterdam Genetics, these guys truly are the top of the food chain when it comes to the best weed in Amsterdam. Tangerine G13 was designed to boost the beloved Tangerine strain to new heights. Tangerine G13 hosts a citrusy and orangy aroma and flavor pallet. A 60/40 Indica dominant strain. The high starts primarily as cerebral and later ends in a physical body high.  With a 19%-23% average THC content.
Tangerine G13 is a potent strain known to provide deep feelings of relaxation, with that nice uplifting hint that Sativa hybrids notoriously provide. This strain perfectly marries Indica and Sativa to create a tasty, wonderfully smelling potent cannabis product. We highly recommend giving this strain a try if you are out in Amsterdam, at is it some of the best weed in Amsterdam.
8. AK-47
AK-47 known as a staple that you can't miss out on when cruising the notorious Amsterdam coffee shops. A 65/35 Sativa strain that carries a very relaxing high, even known to provide a couch-lock sort of high. This is unlike most Sativa dominant strains which make for a very unique and highly sought after high. The strains THC content is fairly average at around 17%-20%, however, the CBD content can get as high as 1.5%.
The strain is extremely relaxing and calming. The levels of CBD add to that outcome. The aroma and taste are very earthy with peppery notes. AK-47 is an F1 from Dutch Seed Bank Serious Seeds, a hybrid of Colombian, Mexican, Thai, and Afghani descent. AK-47 is a classic primo strain in Amsterdam. Don't miss out!
9. Super Silver Haze
Super Silver Haze is known across the board as some of the best weed in Amsterdam. Known as some of the finest smoke available. An average THC content of 25%, so a fairly potent strain to boot. A 70/30 Sativa dominant strain, a legendary strain at that. Known as a psychedelic hybrid, the flavors are citrusy, sweet, and skunky.  A long lineage of balance parent strains, including Skunk #1, Haze, and Northern Lights, Acapulco Gold, Columbian Gold, Afghani, and Thai.
This strain has been winning awards since the '90s known as a world heavyweight champion in the Cannabis world. This decorated strain induces extremely high feelings of happiness, euphoria, and uplifted-ness. Known to inspire creativity and feelings of relaxation. This strain is a must-try for any and all cannabis users.
1o. Dutch Treat
An Amsterdam staple Dutch Treat is one of the best-known strains in Amsterdam. An 80/20 Indica dominant strain with a high THC content of 20%-25%.  Some samples have been tested as high as 30% THC content. The high level of Indica genetics creates an almost immediate head rush, followed by a body buzz on the tail end with high relaxation qualities.
Often resulted in laziness, along with the desire to stay on the couch and not do a whole lot. But man will you have fun on that couch. Dutch treat is effective at treating anxiety, pain, and insomnia. Dutch treat is a descendant of Northern Lights, Skunk, and Haze.   A great option for a night-time smoke for a hang with friends, or for some introspection. The strain has a slightly fruity and candy-like aroma and taste, very attractive qualities to most. Dutch Treat is a must-try staple strain when in Amsterdam, and we highly recommend trying it.
---
We've put together this list of the best weed in Amsterdam to make sure you are prepared. No need to be overwhelmed with options just take a look through our list and you will know what to expect and what to look for.